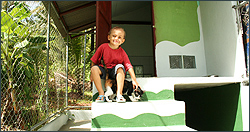 Training & Rehab

The DOGFATHER can provide specific training techniques to assist owners with any problems they may be facing with their dog.
Each dog and each problem will be individually assessed and all training techniques involve mostly positive reinforcement methods, with most simply involving the use of food conditioning.

The intention of the training is to address any behavioural problems for the dog and to educate the owners in how to understand and respond to the dog's needs.
Price upon request, depending on the situation.

Boarding

Clean, safe and professionally run kennels are vitally important for all pet owners and all accommodation at the DOGFATHER is well designed and kept in premium condition. Staff are always on-site to look after the animals.
There are no limits on the length of stay for boarding as it's

understood that each owner will have personal circumstances dictating the times when they can be on the island.
The kennels and the services are designed to provide boarding pets with the kind of care and attention that the DOGFATHER would expect for his own pets.
Please view our accomodation page for price information.
Activities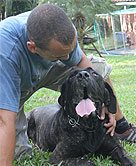 Romping
Dogs boarding at the kennels receive up to 60 minutes of daily exercise and play in the large fields at the facility. Additional romping is also available on request.
Hiking
Dogs enjoy a 15 minute leashed hike on one of the many exciting and beautiful nature trails.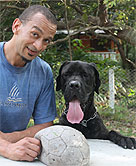 Off Leash Park
There's also 15 minutes of off-leash fun with dogs playing frisbee, ball or chase in a secure area.
Outdoor Playschools
Dogs benefit from a session of unlimited cuddles, scratches and playtime with a personal instructor providing one-to-one interaction.
Parasite & Skin Treatment

We can treat various skin diseases and ecto parasites (ticks and fleas). Furthermore we offer products and remedies to treat many different kinds of skin related problems.
Fee depends on treatment as well as amount needed (dog weight).